NORDIC WALKING
An Effective Exercise Option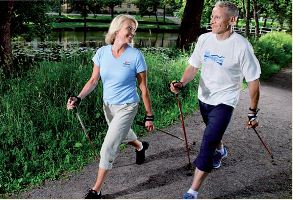 Nordic Walking is a fitness activity that enhances the natural walking movement by the addition of specifically designed walking poles. Nordic Walking has become a worldwide phenomenon as people discover the health and fitness benefits of this unique and effective form of exercise.
Nordic Walking is a fitness activity that enhances the natural walking movement by the addition of specifically designed walking poles. Nordic Walking has become a worldwide phenomenon as people discover the health and fitness benefits of this unique and effective form of exercise.
Originally used by the Scandinavians, as a summer training regime to duplicate X-country skiing, Nordic Walking started to become mainstream in the late 1990's, with the development of specific one piece carbon fibre poles. (It must be stressed that Nordic Walking poles are entirely different to tramping poles. In NZ, poles are generally purchased from a certified* Instructor, after a course of Instruction).
While Nordic Walking is first and foremost a fitness activity, many health benefits have been attributed to this exercise. Walking with Nordic Walking poles involves the use of the arms and upper body, thereby increasing the energy (calorie) expenditure. You are using 90% of your muscles 100% of the time!
It is highly recommended that you learn Nordic Walking from a certified* Instructor, to ensure you get the best instruction. Once you have learned the correct technique, you can gain more effective energy usage (>20%) in less time, which is ideal for those people who have a lower fitness capacity, are overweight or have mobility issues. Physical activity is recommended to Diabetics as a way of mitigating the effects of high, circulating blood sugar levels. Compared to regular walking, the higher energy use while Nordic Walking may have a positive impact on managing these levels.
To summarize the acute physiological effects of Nordic walking, it increases the energy consumption of the body, compared to regular walking with the same speed, without poles, both in women and men and in fit and less fit individuals ... (Diabet. Med. 28, 1362–1372 (2011)).
Once you are correctly sized for the poles, you will notice an immediate improvement in your posture. It is amazing that 70% of our body weight is above the hips. When we walk, most of the upper body is "carried" like a passenger in a car. As a result, our posture can slump if the upper body does not have an active movement, during walking.
The improvement to posture ensures the flow of gravity moving through our body is properly aligned. The poles also provide stability during the walking movement as you now have a second "foot" on the ground. This improves balance and reduces the joint load, making the walking movement more effective and ... smarter! This may ultimately reduce stress on the feet. Those people suffering from diabetic peripheral neuropathy (reduced circulation in the feet and legs) need to avoid hard pathways and walk on softer surfaces, such as grass or firm sand.
Whenever we exercise, we tend to work at a level dependent on our perceived exertion level. As the exercise intensity increases, our perception also increases (along with our heart rate). Therefore, we adjust our effort to suit our fitness level. However, the rate of perceived exertion in Nordic Walking is lower. This means that if you have reduced fitness, you can maintain the activity longer. Furthermore, a person who is of higher fitness can continue the activity at a heart rate level similar to running.
... perceived exertion in pole walking is often less than true physiological strain ... The resulting increases in energy consumption and heart rate in Nordic walking mean that the cardiovascular strain induced by Nordic walking is greater compared to walking without poles at the same speed. This is desirable for those people who have difficulty reaching their training heart rate by walking - instead of having to start running they can start using walking poles and continue walking. Walking involves less harmful impact to the lower extremities compared to running, and therefore may prevent from (sic) injuries. (Diabet. Med. 28, 1362–1372 (2011)).
The benefits of Nordic Walking also extends to individuals with Parkinson's (PD) and other neurological conditions; multiple sclerosis (MS); chronic obstructed pulmonary disease (COPD); arthritis; stroke recovery; joint replacements; obesity; fibromyalgia; breast cancer recovery and other limitations to walking.
This is not forgetting that many fit and well people use Nordic Walking as an effective and smarter way of exercising, which is low impact and a total body workout.
Physical activity is vital to good health and Nordic Walking could be the perfect exercise solution to help diabetes sufferers' exercise more effectively.
(Article written and researched by June Stevenson, Nordic Walking Coach)
*June Stevenson is the NZ National Nordic Walking Coach on behalf of the International Nordic Walking Federation (INWA). She is a Registered Exercise Consultant and Health and Fitness Trainer.
---
Walk like a Scandinavian

Enliven your low-impact regimen with this imported full-body conditioner. Nordic walking targets multiple major muscle groups and increases your range of motion. Pick up a couple of poles and get going.
This unique form of exercise originated among Scandinavian skiers, who developed it as part of their off-season training program. All summer long they mimic the classical skiing technique on every imaginable surface. For years one of the best-kept secrets in sport, Nordic walking has finally gone mainstream.
Who would ever imagine a couple of spike-tipped poles having the power to transform a ho-hum exercise like walking into a dynamic, must-do activity?

Yet that's exactly what's happened with the introduction of Nordic walking, a hybrid of cross-country skiing practiced by millions of people worldwide.

Today, even elite athletes are likely to be found with poles in hand and no wonder. Safe and easy to perform, Nordic walking engages 90 per cent of the body's muscles.

Now, people everywhere can be seen moving at an accelerated pace along trails and roadways, jabbing the earth with lightweight, carbon-fiber poles.
"Essentially, Nordic Walking encourages a more anatomically correct walking position, resulting in the torso and arms performing a fuller range of motion," explains June Stevenson, a Nordic walking coach based in Auckland, New Zealand.
"The poles provide a postural point of reference that allows the diaphragm and chest to expand. Stride lengthens and the usually tight hip flexors and hamstrings begin to release. People participate in a low impact, total body workout that can use up to 40 percent more calories than regular walking."
The best results are obtained when participants exhibit trunk rotation, which engages the abdominal muscles. Limb movements should be controlled, but aggressively executed. Establishing a rhythm between arms and legs, which move opposite to one another, is fundamental to the sport.
It's important to maintain a light grip on the pole, otherwise you risk muscle strain in the forearms. Plant poles on a downward angle rather than striking vertically. You should feel some resistance-the poles assist propulsion.
"Nordic walking targets muscles in the abdominal core, shoulder girdle, chest and arm," says Stevenson. "These muscles are activated more fully as the poles provide the resistance for the muscles to act against. Increased range of motion and blood supply throughout the pectoral and thoracic spine has been shown to alleviate tension in the upper back areas. So it is quite a complete exercise. Other activities often require cross-training or gym specific exercises to balance under-utilized muscle groups, but not Nordic walking."
During normal walking, the upper body is usually static, making it a one -dimensional activity. When the trunk and shoulders are engaged, the body works on three planes, which not only strengthens muscles, but also helps to protect against falls.
Nordic walking is an ideal exercise for the elderly, many of whom are discarding their canes in favor of poles. Lightweight and equipped with 'asphalt paws' that cover spiked tips during road treks, Nordic walking poles are considerably shorter than those used for cross-country skiing. To determine size, raise your forearm until it's positioned at a ninety-degree angle with your elbow, and then measure the distance to the ground.
Polar Opposites:
Anyone who has done cross-country skiing understands exactly how to handle Nordic walking poles, but those unfamiliar with either sport require instruction their first time out.
"If you're unsure how to manage them you'll probably use them as trekking poles," says Malin Svensson, president of Nordic Walking USA, (http://www.nordicwalkingusa.com/) who lives in Santa Monica, California. "A trekking pole is planted into the ground vertically, but that's not the case with Nordic walking poles. They must hit the ground at an angle.'
Svensson identifies the most common mistakes among beginners:
Reaching with the same arm and leg, instead of working them in opposition. In Nordic walking, it's left leg, right arm and so on.
Holding the poles too far from the body.
Striking too hard with the poles.
Swinging the arms outward instead of keeping them tight to the body.
If you're searching for an exercise that utilizes all the muscle groups yet is easy to master, you'll love Nordic walking.
June Stevenson was an instant convert.
"The enjoyment I experience from Nordic Walking is not limited to just the physical benefits. I also derive a feeling of psychological well being quite different from anything I've felt from other forms of physical activity. I can do Nordic walking every day, because my hip joints don't ache like they did with previous activity. No more bone-jarring jogging or one-dimensional endurance walking for me."
Article reproduced from: http://freedom-center.fitdv.com/new/articles/article.php?artid=939
Written By: Arthur Kelly Published: 2 March 2006
---
Archive
Reflections of the Camino di Santiago di Compostela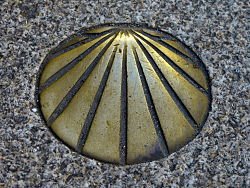 1
"Each has their own reason for walking, cycling, riding a horse or a donkey. Some - unlike me - are real 'peregrinos' (pilgrims), some do it for sport, some do it to benefit a charity etc. I like walking by myself and quietly reflect on life while enjoying everything and everyone around me. That, and the camaraderie on the way and in the 'albergues' (hostels) are my reasons for walking 'The Way'. However, one needs to remain vigilant - personal safety is not guaranteed.
Starting before 5 a.m. to avoid the heat, I was rewarded by some amazing sunrises which reflected on the ever changing colour palette of the undulating fields. I walked 20 to 28kms per day and took 3 rest days in total. The last 4 or 5 days before Santiago, I had to reduce my walking to around 15km or less in order not to reach my destination too early. My feet had been on a roll and it wasn't easy to restrain them. I didn't feel exhausted on arrival. I credit this to the fact that I paced myself - which is easier to do when walking alone. I used my Nordic walking poles at all times - wearing out two sets of paws in the process. They gave me the support I needed for my damaged knee ligament.
The scenery varies depending on the areas. Sometimes it's beautiful, at other times not so. Most villages are picturesque. However, few people are to be seen apart from those catering for peregrinos. Those coming out after siesta time - around 7pm, are mostly elderly. Children are rare and no general tourists are to be seen anywhere on The Way or in the villages as they flock to the beautiful cities. Camino walkers or riders don't see themselves as tourists.
Most of the dedicated Camino albergues that I stayed at, costing between Euro 5 and 16 per night, are well appointed and clean because the competition for the 'peregrino' Euro is fierce. To overnight in them, one has to buy a 'credentiale' or 'passport' (Euro2) at one of the albergues, Tourism Bureau, Church or some other outlet. This is then stamped at each albergue. In many places there are also private hostels and hotels not requiring the credentiale.
On arrival in Santiago, If one wants to receive a certificate of accomplishment, referred to as a 'Compostela', one needs a certain number of stamps and has to have walked the last 100km.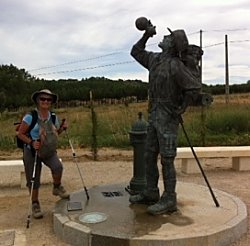 2
My backpack weighed between 5 and 5.5kgs containing:
Sleeping bag, sandals, 1 change of clothes, 30cm2 towel, 1p of socks, 1 small bottle of concentrated all-purpose soap, tooth paste, small tooth brush, comb, small 1st aid kit, Vaseline, foot cream, eye shades, ear plugs, sleeveless thin puffer jacket, thin wind jacket, poncho, 500ml water bottle.
Small day pack, worn on on my front: guide book, camera, iPhone, sun lotion, sunhat, 500ml water bottle, reading and sun glasses, snacks.
Constantly around my waist: a money belt with passport, money, bank cards and insurance details.
I wore sturdy walk shoes (on sale at NZ$79) and my perfect socks (different for everyone). In the morning, I massaged my feet with foot cream until absorbed then applied lots of Vaseline before putting on my socks. After the walk, I again aplied lots of foot cream without massaging, because that would have stimulated the blood flow - my feet needed cooling off instead.
I was on my feet for 9 weeks including my side trips. I suffered one painful tiny blister by walking faster than my normal pace going down a steep gravel track. I saw some people's feet so damaged that they had to give up, while others trudge on in agony - why I'll never know.
In the early mornings before leaving I ate: a banana, nuts, a protein bar, lots of water.
Breakfast at the next village - usually between 9 and 10am: hot chocolate, a large slice of tortilla or a cheese omelette on French bread, a pain-au-chocolat and a large croissant. I also bought extra pain-au-chocolat and croissants to keep me going until I spotted a lunch bar.
Dinner: a peregrino menu at one of the restaurants in the village or town - Euro 9 to 13 for a 3 course meal. The size of the entree invariably qualified as a main! Sometimes it was tasty and sometimes it wasn't. But I didn't feel like shopping and cooking my own dinner in the albergue. Not many others did that either. Resting, showering, doing laundry, socialising, going to dinner, catching up on notes and emails, and retiring around 9pm seemed to be the general norm.
The Camino routes keep attracting people - many who are repeat walkers. Some people I met had previously done between 3 and 8 routes. This was my third route and I too am going back for more. In March 2016, I will endeavour to walk de 'Via de la Plata' 1000km from Seville to Camino Santiago."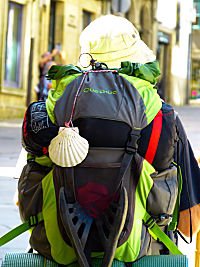 3
14/12/2015 - Simone Robert
[Edited]
Photo Credits:

1. June Stevenson
2. Simone Robert
3. June Stevenson