Invitation to NZ World Nordic Walking Day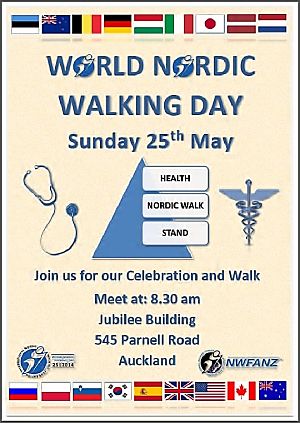 You are warmly invited to join this celebration. Over 24 hours, 30 countries unite for a global Nordic Walk. Join the 5km or 10km, followed by refreshments, recognitions, and guest speakers.
Ken Ring (keynote speaker), will talk about weather patterns and predictions. His speech promises to be a cracker!
William Aitken Ltd, our product sponsor, will showcase their NZ company, a pioneer in its field.
"Stand - Nordic Walk - Health" and "The Weight Mistake" will give you up-to-the minute health information which will encourage positive lifestyle changes.
The achievements of our Nordic Walkers will also be recognised.
The programme details are listed below. It'll be great to see you!