Benefits of Nordic Walking  Why Nordic Walking is the Smarter Way to Exercise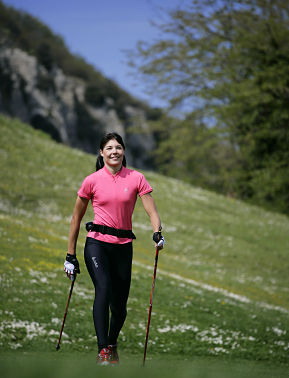 · Uses 90% of the muscles 100% of the time
· Tones/strengthens arms, shoulders, abdominals, buttocks and legs
· Releases neck and shoulder tension
· Low impact, stable and enhances upright posture
· Reduces compression on joints by 30%
· Burns up to 40% more calories
1. Burn more calories in less time
Approximately 400 calories per hour (compared with 280 calories for normal walking).  Energy consumption increases when using poles by an average of 20% compared with ordinary walking at the same speed without poles. Heart rate is 5-17 beats per minute higher. Up to a 46% increase in energy consumption when fully utilising the correct technique.
2. Low rate of perceived exertion
You can walk for extended periods and not feel exhausted because you are utilising more muscle groups to propel you.
3. A total body activity
The lateral mobility of the neck and spine increases significantly. The muscles most actively involved are the forearm extensor and flexor muscles, biceps, triceps, the rear part of the shoulder muscles, the large pectoral muscles, chest, abdominals, back muscles, and your butt!
4. Reduced load and relaxed muscles
Reduces the load on knees and other joints. Improves balance and co-ordination. Releases pain and muscle tension in the neck/shoulder region.
Timothy S. Church et. al. Field testing of Physiological Responses Associated with Nordic Walking. Research Quarterly for Exercise and Sport, vol. 73, No. 3., pp 296-300