17 Dec 13
Nordic Walking Newsletter - 7 Christmas 2013

SURVIVING CHRISTMAS ... EATING, EXERCISE & ENJOYMENT!
Very often we go from day to day without acknowledging the changes or achievements we have made over the past 12 months. The "busy-ness" of our lives causes us to be reactive, rather than proactive with our health and fitness and this can lead to procrastination.
Many of you have been proactive and can look back on this year as one where you have set goals and made a concerted effort to tick them off. You may have started to exercise more frequently, participated in an event, or made other positive lifestyle changes.
Research has confirmed that engaging in fitness activities helps us live longer with less health problems and keeps the brain focused and mentally alert. Nordic Walking is a cross-brain activity and exercising outdoors boosts energy and wellbeing. Use your Nordic Walking poles frequently and have fun whilst maintaining your good health!
To help you keep on track, read the "Surviving Christmas" tips here ...
Thank you for your support this year and I look forward to seeing you in 2014.
Merry Christmas,

---
---
NORDIC KIWIS' RAISE > $9000!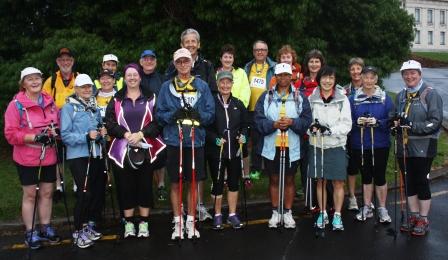 Congratulations must go to the dedicated and determined team of Nordic Walkers, who have been training for the past 7 weeks in preparation for the inaugural New Zealand Night-time Half Marathon.
This event served as a fundraiser for the Cancer Society. A number of the team are cancer survivors and Nordic Walking has been a vital rehabilitation exercise for them. Others decided to participate in memory of family and friends who had died. Many people also made remembrance donations and these names were read out during a prayer at the beginning of the walk and then carried with the team during the night.
Help us Reach our Goal of $10,000!
To date, the Nordic Kiwis have raised over $9,000.00 and are the second highest fundraising team. If you would like to continue the support and remember a loved one or to affirm a survivor, donations are being held open until the end of January 2014. Visit the team and read same amazing stories ...
---
---
GOAL-SETTING POST CHRISTMAS
"Join our training squad ... starting January 11, 2014"
Kick start the New Year by setting a goal to participate in an event and start a positive exercise habit for 2014. The Stirling Sports Quarter (11 kms) and Half (21 kms) Marathon is a Nordic Walking friendly event, which Nordic Walkers have participated in since 2005. The event takes place on February 23 and team training will start on January 11.

Kick start here!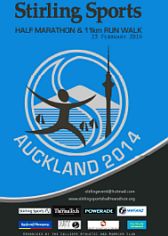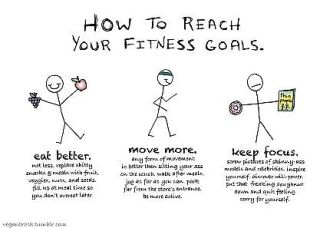 ---
---

---
Newsletter Archives
23 Jan 19: The Smarter Way to Exercise
26 Oct 16: "The Whole Body Walks"
13 Jun 16: The Third Age
11 Feb 16: Summer/Autumn Events 2016
11 Feb 16: Summer/Autumn Events 2016
20 Dec 15: Christmas Edition
22 Jul 15: Every Mile is Two in Winter
07 Jan 15: Nordic Walking Newsletter - Self Supporting Behaviour
09 May 14: Nordic Walking Day Topics - Weight, Weather & Walking
24 Apr 14: Weight Control & Nordic Walking
26 Mar 14: Newsletter - Autumn 2014
10 Feb 14: Nordic Walking Newsletter - Welcome to 2014
17 Dec 13: Nordic Walking Newsletter - 7 Christmas 2013
08 Nov 13: Nordic Walking Newsletter - Summer 2013
19 Aug 13: Nordic Walking Newsletter - Spring 2013
06 Jun 13: Nordic Walking Newsletter - Winter 2013
10 May 13: World Nordic Walking Day 2013 Newsletter
28 Mar 13: Nordic Walking Newsletter - Autumn 2013
14 Dec 12: Newsletter Summer 2012:
25 Oct 12: Here's our new newsletter for Spring 2012: