Walking is "Controlled Falling"
"The Whole Body Walks"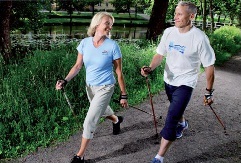 Walking is often described as "controlled falling". Because humans are the only mammal to stand erect, we have to maintain balance and equilibrium within our tall, straight and largely unstable body structure. In comparison to our height, our feet are very small, holding us upright against gravity, moving us forward, side-to-side and backwards. To help stablise our movement, walking requires us to have one foot on the ground for approximately 60% of the time.
Sight, balance and sensation must communicate together, to achieve what we tend to regard as a simple movement. As many of you know, we don't walk very well, at all. We move our legs, but don't generally engage the torso. It is not until you experience Nordic Walking that you become aware of the flaws in this basic form of locomotion. The torso movement is critical to ensure that our lower joints are not overloaded with our body weight and to maintain flexibility within the spinal structures.
Nordic Walking provides improved stability and torso activation. The pole plant, along with the heel-toe gait, provides a stable triangular base for the carriage of the body (as seen in the photo of the woman).