Summer/Autumn Events 2016
Helping you Help Yourself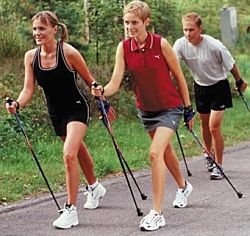 The Christmas, New Year and Summer holiday season has zoomed by and I imagine that most of us are now settling back into our regular-life routines. The New Year often brings us thoughts of doing something new and making changes, but before we know it, our regular habits have us settling back into the same-o, same-o.
Some of these thoughts may apply to deeply personal matters, but we are thwarted to act by a lack of confidence. Our confidence may have been knocked when we were young children and has continued to be eroded over the years. Failure reinforces our thoughts, so why should we try something that sets up that same feeling? I have seen many people start something new, with a fresh blush of hope, only to stop within a few weeks.
It has been recognised that contemplating change is an easily understandable process, and in this newsletter, there is a small introduction to this. There are also three Nordic Walking-friendly events, which have been selected to encourage your participation.
Desire, Awareness, Knowledge and Action ... steps to help you help yourself!
Cheers for now,
June